Search results
Glade Spray, Hawaiian Breeze, 8 Ounce, $2.79
Eliminates odors & freshens the air. Up to 7 hours of freshness. A family company. Environmental Facts: steel can is recyclable; filling process uses more than 30% renewable energy. Learn more at: www.scjohnson.com. Contains no CFCs or other ozone depleting substances. Contains no CFCs which deplete the ozone layer. Steel can, please recycle when empty. A family company since 1886. - Fisk Johnson. Questions? Need recycling information? Call 800-558-5252 or write Helen Johnson. www.glade.com.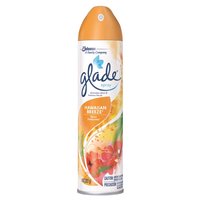 Glade Spray, Hawaiian Breeze, 8 Ounce
Open product description
Hale Plume Organic Soy Wax Candle POG, 1 Each, $22.99
AKA, the Nectar of the Gods. A classic Hawaiian beverage, an island staple, and the inspiration for this candle blend. This sweet and tangy scent fills the air and takes you back.
Hale Plume Organic Soy Wax Candle POG, 1 Each
Open product description